A few weeks ago when things started to look unlikely with our home study progress, I asked on Facebook for prayers. The response was overwhelming. So many friends said they were praying for us. I am so thankful for those prayers.
Unfortunately things have not progressed at all with our home study. And the last message from our social worker was less than promising. And so I was temped to ask for prayers again. But I felt God saying something different. I felt God saying to change the focus. It's not about me and my home study. It's about the kids.
If the home study never gets completed or if it never gets approved, I will be fine. Sure, I will be sad and long for the child(ren) I don't have, but I will be fine. The same can not be said for the kids waiting for families.
The statistics on children who age out of the system are depressing. Look at this infographic from a recent
CNN opinion piece
.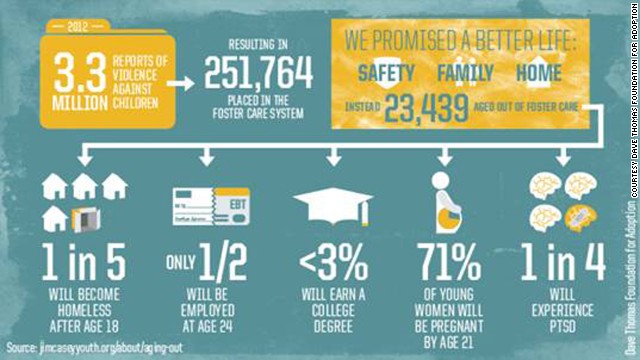 Instead of praying for me, will you find a child and pray for them? It's possible that you will be the only person praying for them. Go to
Adopt US Kids
and search for a child or view your state's photo list. Remember their face and their name. Pray each day for that child to have hope and to find a family. Pray for them to feel God's loving presence.