This past week I tackled two books that were difficult to read:
Orphans of the Living: Stories of America's Children in Foster Care
and
On Their Own: What Happens to Kids When They Age Out of the Foster Care System.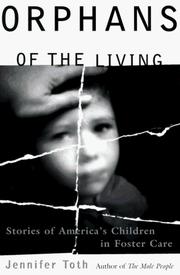 Both books are similar in that they tell the stories of children who grew up in foster care. Orphans of the Living looks at 5 children and On their Own looks at 10 children. On Their Own focuses more on the aging out process and how children were (or likely were not) prepared for to enter adulthood on their own. Both books are depressing, but only one is worth reading, in my opinion. Orphans of the Living is just too dark. Don't read it. I sort of wish I hadn't.
On Their Own does a much better job of offering a balanced approach. Still depressing, but well written and includes steps for how we as individuals and as a country should move forward and better prepare foster children. It helped me to see how so many foster children become jobless and homeless, but how others, who grew up in similar situations, but with a few key differences, could become well-adjusted, successful adults. If you can stomach depressing true stories, this book is a worthwhile read!