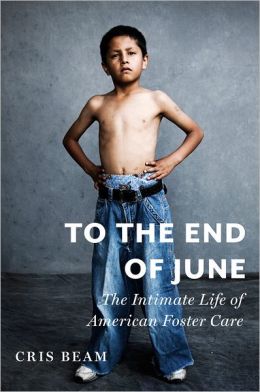 I mentioned in
last week's What We're Reading Wednesday
that I was hoping to get a more detailed review of
To the End of June
up on the blog. So what better time to do it than for this week's WWRW!
If you have been reading my blog over the past weeks, you know that John and I are actively discerning our call to adoption (read
here
and
here
if you haven't already). This was the first book I read about the current state of the foster care system. I hope to read more in the weeks to come and share them with you on the blog.
To the End of June: the Intimate Life of American Foster Care
is mainly a look at the foster care system through the eyes of about a dozen families over the course of five years. The author, Cris Beam, explains that she is "looking at foster families who are deeply invested in the system's successes - families who love their children and believe they can help - to more easily discover the flaws that foil anyone's best intentions." Interwoven in the stories of these kids and families is factual information about the legal aspects of foster care.
As someone who plans to foster adopt, I gleaned the most insights from the parts about why people choose to foster and/or adopt, and what makes their child placements successful. Mary Keane is one of the success stories in the book. Here is an excerpt:
Mary Keane... runs foster parent training and recruitment classes all over New York City. At one of the recruitment nights, she had gathered up a few older foster kids to talk about what they wanted from their parents.
"Basically, I just want someone to understand me, and support me," one of the girls said plainly from the front of the room. The girl had dirty blond hair with streaks of purple washed thought, and she smiled patiently at the roomful of adults, perched at the edge of their chairs. The adults were more specific about their desires.
"I'm looking for a chorus," one older woman in the audience said eagerly. "I'm a singer in my church, and I'd love to have a houseful of children to sing with me."
A man in his forties, who was looking forward to becoming a single dad, said, "All I'm looking for is respect."
Mary told him that it was likely he wouldn't get that, at least not at first. "They're not going to meet the parents' needs - to be appreciated or anything else. Not until they're grown," Mary told me later.... Foster teens can be particularly rough, I thought, so I was her: Why on earth would anybody sign up for this?
"Altruism," Mary said... you become a foster parent because it's the right thing to do. Mary has been a foster and adoptive parent for over ten year, and she's taken in more than twenty-five teenagers and young adults. She has never sent one of them back. She said she parented all of her kids only because she felt the pull to "make a difference in the world."
"Parents should do it because the kids need. Otherwise they're going to be disappointed," Mary said.... foster parenting by definition means personal sacrifice. "You do it because you want to help a kid, and because you enjoy seeing them grow. The gratitude for what you've done might come later. Like after five years of hell."
The stories in the book show over and over again that the foster system is broken and that children, especially teenagers with rough backgrounds, are extremely challenging. Those who are successful, like Mary, do it because it's what the kids need.
Sadly, people like Mary are likely the exception, not the rule. Beam tells about a single man named Bruce. He had a big home, money, and was childless. He thought adoption was the right route to take. Over the course of four years, over thirty children cycled through Bruce's house and he sent them all back. Some cried too much, some were too destructive; in all cases, Bruce felt like he recieved too little help from Children's Services.
The lack of help from Children's services is a problem. Beam tells a story about a foster girl who is hit by a car. No one will come to the hospital for her. Not her foster mom, not her caseworker. Ultimately, another foster child comes to be with her. Another foster mom, Allyson, paints a similar picture. "All the goods and services [like therapy and tutoring] we tracked down for our children ourselves. Nobody held our hands through any of this stuff."
Through these and other stories, Beam paints a grim, but realistic view of foster care. And though the book might be described as a downer, there is hope. There is hope in people like Mary. There is hope if you follow the advice of Kecia, "You gotta rock with a kid, all the way."
The best reason I can give you for why you should read the book is that it will make it personal.
To the End of June
helped to give me a direct glimpse into the lives of the 400,000 plus kids living in foster care right now in the U.S. These are the kids that are most likely to be incarcerated, unemployed, and homeless when they grow up. These are also the kids who are most in need of unconditional love. Please read the book. Maybe it will inspire you the way it has us.